Belkin International is a company that specializes in consumer electronics connectivity devices to help people utilize the power of technology to connect with each other. Their products will enhance your experiences and provide solutions while using smartphones, computers, tvs, and electronic products around your home. Wireless home networking, energy management, entertainment, and mobile accessories are only a few of the areas they cover. From mobile computing accessories to surge protectors to computer network products, Belkin is your one-stop shop for your connectivity needs.
Belkin has three brands under its umbrella: Belkin, Linksys, and WeMo. Belkin's products are easy to use, and that will make your life easier. Linksys will help to connect you wherever you need to go around the world. And WeMo delivers customizable smart home experiences which will help you monitor, measure and manage your electronics, appliances, and lighting either when you are at home or on-the-go.
Belkin...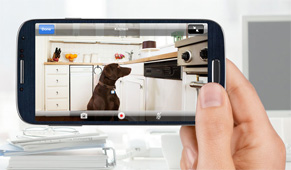 NetCam HD+. Love this product for peace of mind. You can stream live HD video from your home right to your smartphone or tablet. Set up the camera wherever you need to keep an eye on kids, elderly family members, and mischievous pets, any time, anywhere. The picture you will receive is crystal clear with vivid color.
What's more, if you subscribe to Cloud+ Premium Services you can record and store your favorite videos in the cloud to enjoy later. You can also receive notifications on your smartphone or tablet when the camera's motion sensor is triggered. The notifications include a video link, so you can watch the action without missing a beat.
Other features... Night vision is great for viewing what's happening in your home, baby's room, or office, in even total darkness. Everything is in a wide-angle format so that even the largest room is covered. You can also communicate with whoever is on the screen using the camera's push-to-talk function and its built-in hi-def microphone ensures sharp and clear responses. Speak directly into your smartphone or tablet. The motion sensor in the camera will let you know if anything is going on.
Simplicity is the best part about this cam. Just download the app to your device and connect to your home's WiFi router to start streaming video and audio. This cam also works with Belkin's WeMo products so that you have more options, like turning on your lights when someone walks through the door, and more! This is a great product that no one should be without.
Car Power Valet. This highly efficient charger delivers an unparalleled in-car charging experience for your mobile devices. The elegant Power Valet connects directly to your car's cigarette lighter. Inside the Power Valet, a smart chip automatically registers the device connected via the braided Lightning cable to allow the ideal amount of power for optimal charging. There's even a Dash Magnet to secure the cable head to your dashboard to make sure it doesn't get lost or misplaced.
Surge Protectors. Belkin's extensive line of surge protectors will ensure that you and your products are protected and remain safe. The 12-outlet Home/Office protector, with its 8' cord, is our favorite. With an energy rating of 3940 Joules, it offers reliable, powerful protection for your professional workstations, printers, modems, home-theater systems, and household electronics. Essential power filtration, which reduces electromagnetic interference (EMI) and radio frequency interference (RFI), helps your home theater perform at its best. The right angle plug fits easily in tight spaces and behind furniture. With six regular outlets and six BlockSpace outlets, the Belkin Surge Protector can accommodate larger power adapters, like oversized printer and charger plugs, without blocking the other outlets. Just so there are no questions, the "Protected" indicator light turns green to let you know your equipment is secure while the "Not-Grounded" indicator warns you when your outlet is not properly grounded. No more worrying about power spikes or storms damaging your valuable devices. They are very serious about their products so if your electronic equipment is damaged by a surge, spike, or lightning strike while properly connected to this power strip, they will repair or replace it, up to $300,000. How much more reassuring do you need? I thought so... Belkin wins!
Belkin iPhone Charging Bundle. Everything you need to charge your iPhone is included in this money-saving bundle. Car charging, home charging, and different sizes cables. It's a great set.
TrueClear Pro Advanced Screen Care. For the best, clearest protection, this is your go-to screen. In-store certified screen care specialists take extra care to clean and detail your device, then apply your new screen protector. They've got you covered! Like a car or piece of jewelry, mobile devices are an investment worth protecting. You want them scratch free and dirt free so they always look their best. With TrueClear's screen, your device will always be protected.
WeMo...
WeMo is a family of simple and customizable products that allow you to control home electronics from anywhere at any time. This line of innovative, easy-to-use products use mobile internet to control your home electronics, power, water, and Wi-Fi right from your smartphone or tablet. Just a few of the useful products in this line include:
WeMo Insight Switch. This switch connects to your home appliances and electronic devices and it even will send notifications to your smart device showing how much energy your electronics are using. Turn on your A/C unit, heater, tv, washer, dryer, fans, and more (as long as there is a Wi-Fi or 3/4G connection) with your smartphone or tablet. Pamper yourself while you're home instead of getting up and down off the couch. This one product has so much purpose. Great!

WeMo Light Switch. This Wi-Fi enabled switch lets you turn room lights on and off from anywhere, right on your smartphone, while on Wi-Fi, 3G/4G. This switch replaces your standard wall switch and installs quickly and easily.
WeMo LED Starter Kit. Control, schedule and dim your wireless WeMo Smart LED bulb lighting from inside or away from your home. The WeMo Smart LED Bulbs can be controlled individually or as a group, all from the award-winning WeMo App. Program your lights to automatically respond to sunsets and sunrises, have your bedroom lights gradually dim to help you fall asleep, make sure lights are on when you walk in at night, or turn lights on and off when you're away. That's only the tip of the iceberg for what you can do. This is one more excellent product from WeMo to bring peace of mind.
WeMo Smart LED Bulb. Warm, bright and energy efficient lighting go hand in hand with WeMo's Smart LED bulbs. They emit light similar to a 60-watt incandescent bulb and only consume 10 watts of energy. They also have a life expectancy of.... 23 years (with 3 hours a day of usage)!!!
Crock-Pot Smart Slow Cooker with WeMo. This is great, especially if you work and have limited time to prepare meals. Using your smart device, you can conveniently turn it on and off, change the cooking temperature, set timers and watch its status all with the simple, intuitive and free WeMo App.
Linksys...
In this day and age, a router is probably one of the most important pieces of equipment you have in your home. It's the hub of your home or business network and it's what delivers Internet connection to all of your devices, whether they are wireless or wired Ethernet. You don't want to skimp on your router because it's what provides lightning speed and incredible range, so important to your every day Wi-Fi activities.
Linksys' Smart Wi-Fi Router WRT1900AC. This is perfect for the busiest of homes or your home business. Although it's priced a little bit higher than others, it's worth every penny for the extra benefits you'll receive. Setting up the Linksys router is easy, and it's simple to manage after installation. And boy is it powerful!
USB ports on the Linksys allow you to attached external drives or printers and share them on a network. You also have a built-in firewall to protect against Internet invasions. This is a great router for many other reasons. If you have a guest over, they can connect to your network with restricted access to your files and printers. Also, the ability to flash the firmware with OpenWRT will give networking geeks complete network control and they'll love that! As far as specs go, the dual-band, 802.11ac router has a dual-core 1.2 GHz processor, 256MB of DDR3 RAM, and 128MB of flash memory. It has a Gigabit WAN port, four Gigabit LAN ports, a USB 3.0 port and a combo USB 2.0/eSATA port. You can mount in on the wall or ceiling and there are flow vents everywhere to keep it cool. Even the LEDs are fun and high-tech looking.
All in all, the Linksys WRT1900AC is one good looking, excellently engineered router, and it's one that every household should own. What's not to love?
www.belkin.com
www.linksys.com
www.wemo.com