Coach has been an integral part of many lives and many journeys over its 75 years. As a leading New York design house of modern luxury accessories and lifestyle collections for women and men, their product offerings include bags, small leather goods, footwear, ready-to-wear, outerwear, watches, weekend and travel accessories, scarves, sunwear, fragrance, jewelry, and related accessories.
Coach began its journey in 1941 as a family-run workshop in New York City. They were pioneers in the leather goods and accessories space, establishing themselves as the original American house of leather during the second half of the 20th Century. Coach went on to define "accessible luxury" for a generation. Beginning in North America, Coach delivered an alternative to traditional luxury. Then, they expanded beyond their home market, becoming the first American company in their category to bring international relevance to an American leather goods brand.
Today, Coach is available on five continents in over 1,000 directly-operated stores and many global wholesale and distributor partners. The Coach brand continues to stand for authenticity, innovation, and relevance. They have grown organically from the original product, always staying true to key brand equities. Coach is taking their opportunity to make luxury more meaningful, liberating, inviting, and approachable for those who desire more than status. It's a way to celebrate and honor individuality, blending their history and heritage with design and fashion relevance, to present a clear and compelling expression of the Coach Woman and the Coach Man across the brand and around the world.
As Coach celebrates their 75th anniversary, they remain incredibly proud of Coach: Their business, brand, culture, and people. And today, the Coach name is synonymous with effortless New York style, an integral part of the American luxury landscape and the lives of countless Coach customers around the world. They remain inspired by their rich heritage, and we're excited for the endless opportunities that lay ahead for Coach!
This year we have found dozens of pieces that we love but can only highlight a few. Take a look at their website to find their latest offerings in gorgeous colors, styles, and materials.
Mercer Satchel 24 in Grain Leather. Soft grain leather with an easy drape makes this unique, compact satchel remarkably light in weight and rich in texture. This functional bag has many compartments for easy organization. We love the corner details and workwear rivets that add a downtown attitude to its well-organized, three-compartment silhouette. Additional details include: Inside zip and multifunction pockets; Turnlock closure; fabric lining; Handles with 3 1/4" drop; Outside turnlock pocket; Long strap with 23" drop for shoulder or crossbody wear; size is 9 1/2" (L) x 6 3/4" (H) x 4 3/4" (W).
Turnlock Rucksack in polished Black Pebble Leather. Luxe craftsmanship meets utility in a soft, slouchy design crafted in polished pebble leather with a rich sheen. Iconic turnlocks and workwear-inspired signature rivets give it an unmistakable Coach look. Additional features include: Inside zip, cell phone and multifunction pockets; Turnlock closure; fabric lining; Adjustable straps; Outside pockets with turnlock closures; size 10 3/4" (L) x 12 1/2" (H) x 4 1/4" (W). This will easily become one of your favorite bags. It's great for daily use or for traveling. You can take everything you need in this lightweight and stylish bag. Not to mention Coach's dependable craftsmanship. It will become a staple in your wardrobe.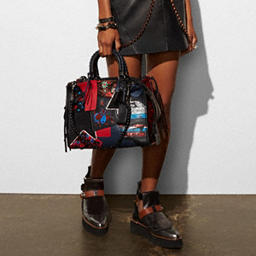 Rogue (in embellished patchwork mixed materials). From the Coach 1941 Collection (dedicated to the year Coach was founded) this bag was inspired by the free-spirited Coach girl. The aptly named Rogue is a go-anywhere bag in glovetanned pebble leather with a luxe suede lining. This rendition celebrates our signature patterns in rich, Americana-inspired patchwork. Features include: Glovetanned, calf and pebble leathers, suede and printed haircalf; Suede lining; Inside French purse pocket; Handles with 3 1/2" drop; Removable strap with 10" drop for shoulder wear; size 12 1/4" (L) x 9 3/4" (H) x 5 1/2" (W). It's stunning!