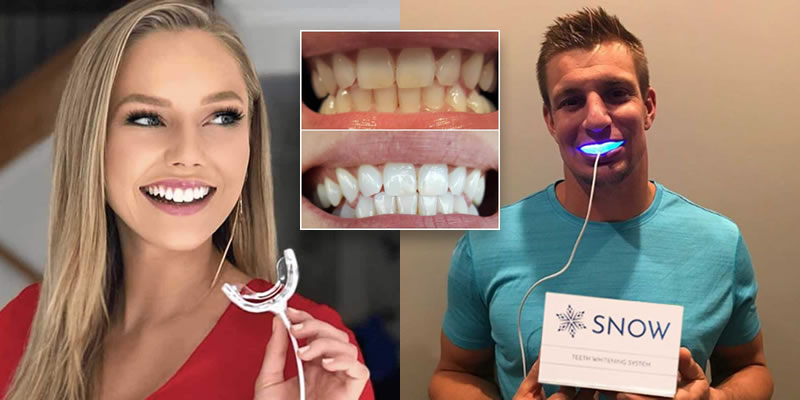 Snow teeth whitening kits are adored, trusted, and acclaimed. They are the pioneers of beautiful oral care. Their patent-pending, award-winning teeth whitening product took several years to formulate and perfect. After spending thousands of dollars trying to whiten his teeth, their founder was left with pretty much the same smile he started with. There had to be a better way. Strips are weak, messy, and the results never last long enough. In-office dentist options can work, but often result in sensitivity, negative side effects, and cost too much to keep up with. Snow bridges the gap by cutting out middlemen and bringing groundbreaking technology affordable for everyone online.
Snow was engineered to be the most advanced formula + technology in the world. Now, it's available in 180+ countries. By now you've probably spotted pics of celebs all over social media sporting Snow's signature glowing blue mouth piece. Snow is cheaper than dentists and easier than strips. They invented a proprietary LED-activated whitening system that removes deep wine, soda, coffee and smoking stains. With a 99% satisfaction rating, Snow now has over 500,000 happy customers worldwide.
It whitens teeth fast — get whiter teeth in as little as 9 minutes right from your home.
It's safe — Snow won't harm your enamel, and is safe to use on caps, veneers, braces, crowns, bridges and implants.
100% Guaranteed results — plus you get a 5-year warranty.
It was voted as the "best teeth whitening kit for sensitive teeth" by Tuck.com (2019)

The kit comes with (3) wands of their proprietary whitening serum, plus the Original, safe LED whitening accelerating technology. Snow's new professional formula is the most effective created to date.