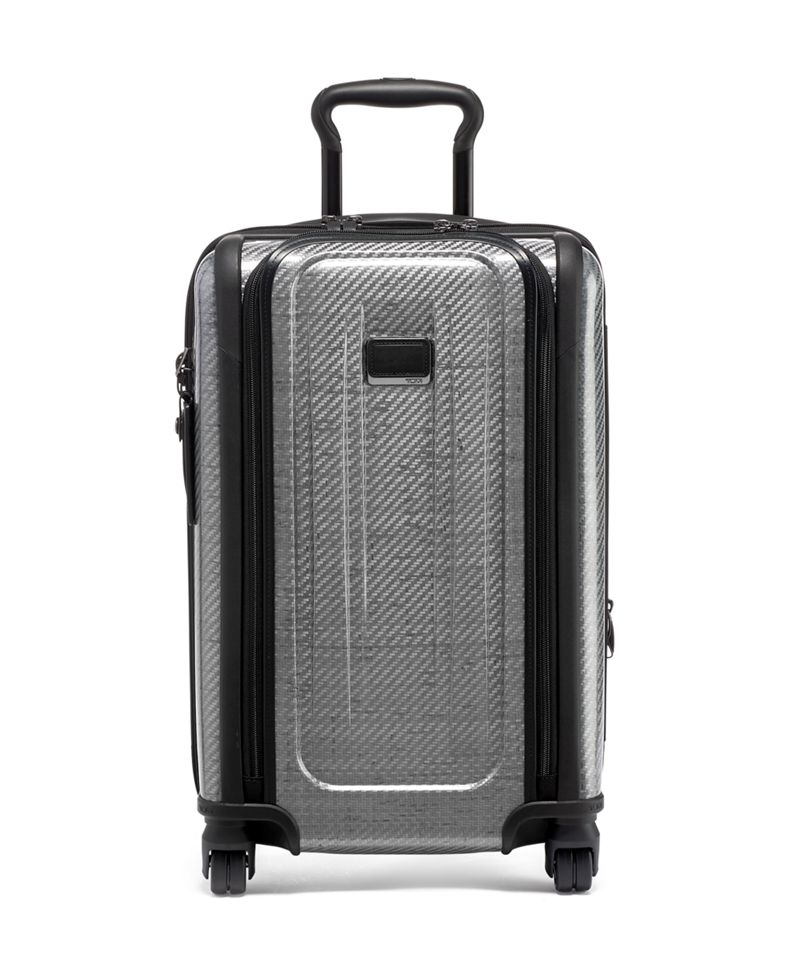 TUMI luggage is our favorite line of luggage. They have dozens of wonderful pieces and TUMI makes sure every piece they send out is put through rigorous testing so that you can be assured you are getting the best product out there. Founded in 1975, TUMI takes its name from a Peruvian icon known to its founder from his Peace Corps days in South America. During the 1980's, TUMI's innovative introduction of soft, ultra-functional, black-on-black ballistic nylon travel bags catapulted the company to its current leadership position. Product quality and selection are key attributes that have made TUMI the leading international business, accessory and travel lifestyle brand. Simply put, there is no other product made like TUMI. This is what they call the TUMI Difference. It is how they approach every aspect and detail of product design. They regard each component—from the smallest, case-hardened solid steel machine screw to their exclusive, virtually abrasion-proof FXT Ballistic Nylon fabric— of each item as if it were the most important.
At TUMI, products are put through a combination of 30 unique tests, many of which they pioneered. Trials include: Product Safety, Colorfastness to Crocking, Colorfastness to Water/Water Repellancy, Colorfastness to Perspiration, Colorfastness to UV Fading, Oil Resistance, Clean ability, Finish Adhesion, Abrasion Resistance, Bally Flex, Stiffness, Tensile Strength, Tear Strength, Seam Strength, Break/Pipiness, Shrinkage, Dimensional Stability, Salt Spray, Mini-Tumble, Operational Forces, Zipper Crosswise Strength, Zipper Puller Tensile Strength, Environmental Cycle, Handle Jerk/Strap Jerk, Drop Test, Tumble Test, Telescoping Handle Free Fall/Impact, Telescoping Handle Cycling, Mileage Cycle, and other Customized tests as required.
They take each and every product out into the real world, testing, touching and trying in every imaginable scenario — and ultimately rejecting anything that doesn't upgrade and streamline your life. It's about tools that provide solutions, before the problems even cross your mind. Security is essential — and one of their goals is to cut down your time in line. With TSA-approved T-Pass technology, you can leave your laptop in your bag as it passes through scanners — giving you one less thing to worry about while getting to the gate.
TUMI obsesses over luggage. With 125+ patents to their name, their fervor for forward thinking is what keeps us ahead of the curve. Collectors, creators and connoisseurs of whats next. Some of their exclusive innovations include: Their exclusive FXT BALLISTIC NYLON that combines a unique weave and special coating to make it ultra-durable, exclusive Tegris that offers unparalleled strength and impact resistance at very light weights; their patented Omega Closure System that reduces the risk of damage to the zipper and makes replacing one unnecessary, their innovative X-BRACE 45 telescoping handle that's made from lightweight-yet-sturdy aircraft-grade aluminum, TUMI Tracer (love this) that is a complimentary program that reunites TUMI customers with their lost or stolen bags, Lever Lock - a two-stage expansion system that offers up to 2.5 extra inches of packing space, Durafold - a construction method that reinforces the corners of hardside cases with heavy-duty stitching and impact-resistance caps; and Secure Slide shoulder strap attachment - another exclusive design that features a cover that slides into place to ensure the clip stays securely closed.
Our favorite lines right now are the TUMI Latitude and TUMI V3. We love their sleek, modern looks and all of their features. Our favorite pieces are the:
TUMI Latitude Collection. Extended Trip Packing Case.
TUMI Latitude is a durable and lightweight hardside luggage collection designed to take you anywhere. Toughness is a luxury. Latitude is their most durable, lightweight hardside case yet. Crafted with layers of specially woven self-reinforced poly-propylene ballistic material, the outer shell can bend and flex in response to its surroundings. It can withstand both high impact and harsh climates. Designed for longer trips or shared packing, the Extended Trip Packing Case features a streamlined design and a brand-new wheel system that makes for smooth maneuvering. Features include: H: 30 in, W: 20.5 in, D: 11.75 in, 9 pounds, Two packing compartments, Hanger bracket, Mesh tie-down straps, Two zip pockets, Mesh zip pocket, Fully lined. Exterior features: Zip entry to main compartment; Integrated low-profile TSA lock; 3-stage telescoping handle; 4 lightweight spinning wheels.
TUMI V3. International Expandable Carry-On.
TUMI V3 Collection- This Lightweight Hardside Collection now has Expansion! The supremely light yet durable V3 luggage pieces are made from a multi-layer Polycarbonate and designed to withstand all of your traveling adventures. A stylish packing case constructed from a special, multi-layer polycarbonate alloy formulation, V3 is supremely durable, remarkably light and ready for the journey ahead. This carry-on is not only effortless to maneuver and ideal for both international and domestic travel, but it is also expandable. Features include: H: 22 in, W: 14 in, D: 9 in, Expanded Depth: 11 in, Weight 12 pounds. Interior features: 4 pcokets, tie-down straps. Exterior features: Retractable top carry handle; Zip entry to main compartment; 3-stage telescoping handle; Integrated TSA lock; 4 recessed dual wheels.