Apple Watches have come a long way from the originals. They have become extensions of your iPhones. In addition to all of your favorite features like sending and receiving text messages, making and receiving phone calls, listening to music, and asking Siri anything, the newest Series 5 has so much more. You can pick your own case and band for a completely customized look and more personal experience that is unique to you in the Apple Watch Studio. It features a 30% larger display, has heart sensors, an ECG app, it's swim proof, has a 50% louder speaker, can detect if you've fallen, lets you quickly alert 911 if need be, and more. Many of these additions are extremely important and beneficial. They're great for the elderly because of the 911 alert! As always, the selection of watch bands keeps getting better as well. The Apple Watch Series 5 debuts an Always-On Retina display that never sleeps, so it's easy to see the time and other important information, without raising or tapping the display. New location features, from a built-in compass to current elevation, help users better navigate their day, while international emergency calling allows customers to call emergency services directly from their Apple Watch in over 150 countries, even without iPhone nearby. Apple Watch Series 5 is available in a wider range of materials, including aluminum, stainless steel, ceramic and an all-new titanium. Combined with the power of watchOS 6, users are empowered to take charge of their health and fitness with new features like Cycle Tracking, the Noise app and Activity Trends. These watches are not only fun to use and convenient but they're essential for every-day living. Apple Watch Series 5 delivers an enhanced experience that makes it even easier to stay connected to those you need to and love, to get information instantly, and to just stay connected.
Here's a more extensive look at Apple Watch 5's features:
Always-On Retina Display.
Apple Watch Series 5 features an innovative new display that allows the time and important information to remain visible at all times. Each watch face has been carefully optimized for the new display and to preserve battery life, the screen intelligently dims when a user's wrist is down and returns to full brightness with a raise or a tap. Several advanced technologies work together to deliver this new feature, including the industry's only low-temperature polysilicon and oxide display (LTPO), ultra-low power display driver, efficient power management integrated circuit and new ambient light sensor. This combination of hardware innovation and incredible software design allows Apple Watch Series 5 to offer all-day 18-hour battery life.
Navigation.
Updated location features on Apple Watch Series 5 provide customers with greater navigation tools to use throughout the day. The new built-in compass and updated Maps app allow users to see which way they are facing. With this, customers can use the new Compass app to see heading, incline, latitude, longitude and current elevation. They can even add one of three new Compass complications to their watch face to see direction at a glance.
International Emergency Calling.
For added personal safety while traveling, users with cellular models of Apple Watch Series 5 can now complete international calls to emergency services, regardless of where the device was originally purchased or if the cellular plan has been activated. International emergency calling also works with fall detection, if enabled, to automatically place an emergency call if Apple Watch senses the user has taken a hard fall and remains motionless for about a minute.
The Noise app helps customers understand the sound levels in loud environments. If the surrounding noise is too loud, your Apple Watch 5 will alert you to try and save you from damaging levels that can impact your permanent hearing. The Noise app helps users understand the ambient sound levels in environments such as concerts and sporting events that could negatively impact hearing.

Health-Related Features.
Staying healthy is at the core of the Apple Watch Series 5. The Activity Rings feature provides you with three rings that correspond to movement, exercise, and standing. They motivate you to keep mobile throughout the day and close your rings to achieve personal goals. The Apple Watch also tracks your workouts. It can automatically detect that you've started to exercise, prompting you to activate the Workout app for stat tracking, measuring calories burned, and much more.
ECG Feature.
The built-in titanium electrode in the digital crown and the sapphire crystal electronic heart sensor on the back of the Apple Watch gives you the ability to record your own ECG, or electrocardiogram. It's similar to a single-lead electrocardiogram and takes only 30 seconds to create. Just touch the digital crown and the Apple Watch generates your ECG waveform in approximately 30 seconds. The ECG app is meant to help you detect whether you're heart's beating at a normal sinus rhythm, or if your rhythm shows irregularity, or atrial fibrillation. Your ECGs are stored in the Health app on your iPhone and you can share them with your doctor.
Heart Rate Sensor.
The optical heart sensor on the back of the Apple Watch is designed to measure and record your heart rate. Irregular heart rhythms (arrhythmias), high heart rates, and low heart rates, can all be indicators of a possible underlying problem. The Apple Watch is engineered to monitor this reading and alert you to any irregularities.
Fall Detection.
The Apple Watch Series 5 features an updated accelerometer and gyroscope that can detect whether you've fallen. If a fall occurs, the Apple Watch delivers an on-screen prompt where you can swipe to have it call emergency services or dismiss it. After 60 seconds of unresponsiveness, the Apple Watch will place the call automatically and send a message to your emergency contacts. It will get help for you whether you are in your home and have fallen, out for a run, or out doing chores. After an elevated heart rate is detected, it is clued into possible health issues, as well as detecting if you've taken a hard fall.
Emergency SOS Functions.
This allows you to quickly get help. It calls 911, notifies your emergency contacts, sends your current location, and displays your Medical ID badge on the screen for emergency personnel.
Activity Rings.
Three activity rings on the Apple Watch Series 5 are designed to help you measure all of the ways you move throughout the day. As you move, each ring begins to close, giving you additional motivation to close your rings and increase mobility.
- Move: This ring tracks active calories you burn. Active calories are the ones you burn through any movement, from taking the stairs at work to playing with the kids.
- Exercise: The Exercise ring shows you how many minutes of brisk activity you've done, whether you're working out or just moving at a fast pace. Stand: Sitting too much has the potential to contribute to health problems over time. This ring is designed to keep track of the amount of times you stand throughout the day.
Workout App. With the Workout app, the Apple Watch Series 5 lets you track your workout progress, set individual goals, and measure your calorie burn. For runners, a cadence metric lets you see your steps per minute, and pace alerts gentle taps you to let you know if you're behind or ahead of where you want to be. Also, rolling pace constantly updates, allowing you to see your split for the preceding mile at any time. In addition to running, the app can track a wide variety of workout types, such as cycling, yoga, swimming, etc. It even has two wheelchair workouts.
Automatic Workout Detection.
If you start a workout, sensors within the Apple Watch will prompt you to start the Workout app. It will even give you credit for the exercise you've already started. It will also remind you to end your workout.
Additional Workout Features.
- Pool Swim: Automatically records splits and sets and c1an recognize your stroke
- Open Water Swim: Visualizes your route on a map, and precisely tracks active calories, distance, and overall pace.
- Elevation Gain: When outdoors, the Series 5 can give you your current elevation.
- Gym Equipment: Pair the Series 5 with compatible gym equipment to track essential metrics
- Trends: Lets you know if your metrics are headed up or down over time.
- Competition: Compete with a friend over a 7-day competition, earning points based on percentage of Activity Rings you close.
Apple Pay.
Charge purchases to your credit or debit card simply by activating Apple Pay and holding your watch to a compatible checkout reader. You can also send or receive Apple Pay Cash via the Messages app. No matter how you use it, Apple Pay is designed to keep your financial information completely private and secure.
Stream Music & Audio.
Keep your workouts fresh and enjoyable by streaming your favorite audio with the Apple Watch Series 5. The Series 5 has access to the enormous Apple Music library, letting you stream your favorite albums, podcasts, and audiobooks. There are only 60 million songs, podcasts, and audiobooks to stream so we hope that will take you through the next generation, or two.
App Store Access.
The Apple Watch Series 5 has the ability to directly access the App Store from its display.
Breathe App and Watch Face.
With the Series 5, the Breathe app is available as a watch face, in either Classic, Focus, or Calm. It is designed to keep you centered by taking you through a series of calming breaths.
Apple Watch Lineup.
Apple is introducing a new case material made of titanium, a prized material in watchmaking that has superb strength-to-weight ratio and is lighter than stainless steel. Available in two beautiful brushed finishes, the natural titanium has a custom-engineered surface which helps maintain its color and resist staining, while the space black titanium achieves its deep color from a diamond-like coating (DLC). Classic styles like the stainless steel case in gold, silver and space black remain, while the aluminum case in silver, gold and space gray is now made for the first time from 100 percent recycled 7000 series aluminum. This fall, the highly scratch-resistant and beautiful white ceramic case is also available, along with a new sport loop and a wide range of great new band colors, which work with any generation of Apple Watch.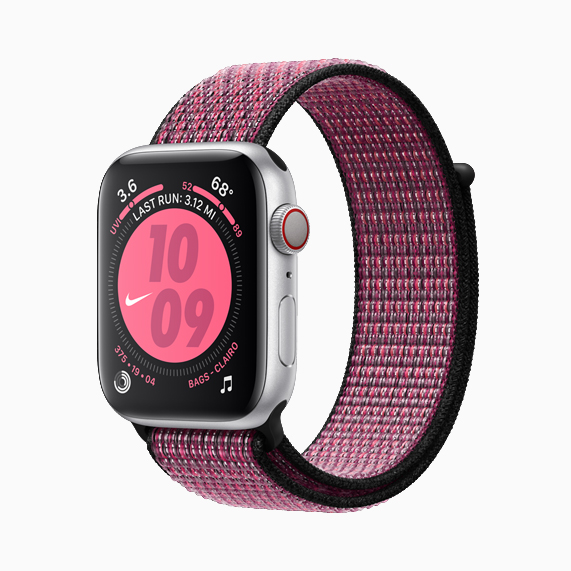 Apple Watch Nike features new colors of the Nike Sport Band and reflective Nike Sport Loop. Apple Watch Nike features a new watch face inspired by the classic Nike Windrunner jacket design, accompanied by new colors of the Nike Sport Band and reflective Nike Sport Loop. Apple Watch Hermès introduces several new styles, including an update to last fall's popular color block band, now in a new Della Cavalleria print, and an all-black version with an exclusive Hermès gradient watch face.
There's so much more to love about the Apple Watch 5. It will make a great gift for anyone you love, including yourself!