Dyson has the ultimate vacuums, fans, heaters, air purifiers, hand dryers, hair dryers, and lights. Sir James Dyson takes everyday products and makes them the best and most efficient they can be...and his design are outstanding, winning many awards over the years. He set out with a dream to create the ultimate vacuum cleaner and, after thousands of failed prototypes and deals, his dream came true, boy did it ever come true! Their products look simple but are anything but. They are stunning, extremely efficient and provide the best in comfort all around your home.
Dyson Hot+Cool Fan Heater AM09... Heat an entire room, or cool it down, faster than any other heater or fan we've seen. Just set the target temperature to the degree you want and this awesome product's Air Multiplier technology generates a high-speed jet of warm or cool air to project heat and cold further and faster. Dyson fans and heaters have no blades... instead, they provide a steady stream of smooth cooling or heating air versus spinning blades which usually chop and reduce the amount of preferred (warm or cool) air you receive. No more chilly or hot nights when you don't want them! The Dyson Hot+Cool Fan Heater gives you a whole lot of bang for your buck and saves space in your room. It's two awesome products in one!
DC59 Animal Stick... You will actually enjoy vacuuming with this great little stick. Its suction is truly amazing for its size and we love its incredible design. Amazingly, it sucks up as much dirt and dust as a corded full-size vacuum without the weight and hassles. The DC59 is powered by the Dyson digital motor V6. The 350W motor, 2 Tier Radial cyclones and nickel manganese cobalt battery provide incredible suction. It combines suction and wiping to remove dust and grime at the same time. Its swivel neck allows it to be manuevered into awkward places with a turn of the wrist. Dyson's patented Root Cyclone technology doesn't rely on a bag to trap all the dust and dirt. Instead, it spins the air so fast that centrifugal forces up to 70,000 times the force of gravity fling dust and dirt out of the air and straight into the clear bin and, because there's no bag to clog, there's no loss of suction. 15 minutes of powerful, constant suction, or 6 minutes on boost mode for more difficult tasks are remarkable. The long-reach wand is detachable, so DC59 can also be used as a handheld with the Combination and Crevice tools and the tools fit directly to the machine. It is wonderful!)
The Dyson Cinetic Big Ball Animal Canister Vacuum... This AWESOME vacuum features Dyson Cinetic science, their biggest technological breakthrough since they invented cyclonic vacuum cleaners. The vacuum is engineered to solve the problem of filters clogging and losing suction. It's the only vacuum cleaner with strong constant suction and no dirty bags or filters to wash or replace because it's just that efficient.
The Dyson Cinetic Big Ball canister vacuum features monostatic, self-righting technology. The vacuum lies on a single stable resting point assembled in a spherical array. With the heaviest components near the floor, and a curved body with a low center of gravity, whenever the vacuum is displaced from its resting position, gravitational force will automatically return it upright. Or more simply, when it's knocked over, it gets back up. No more frustrating interruptions to pick the vacuum back up.
The Dyson Cinetic Big Ball canister vacuum features a new bin emptying mechanism. You can hygienically drive out trapped dust and debris with just the push of a button. There's no need to touch the dirt! While cleaning, an articulated handle rotates in three directions allowing 360° articulation for easy, versatile and greater control all around the home, from floors to furniture to high corners.
Additional features include: Carbon fiber Turbine head carbon fiber filaments pick up fine dust; Stiff nylon bristles remove ground-in dirt; Ball technology core components are housed within the ball, allowing the vacuum to turn on the spot and follow you effortlessly around the home, without awkward moves; The articulating handle and wand rotates in three directions allowing 360 degree articulation for greater control; And with a total reach of 35 feet you can clean here, there and everywhere!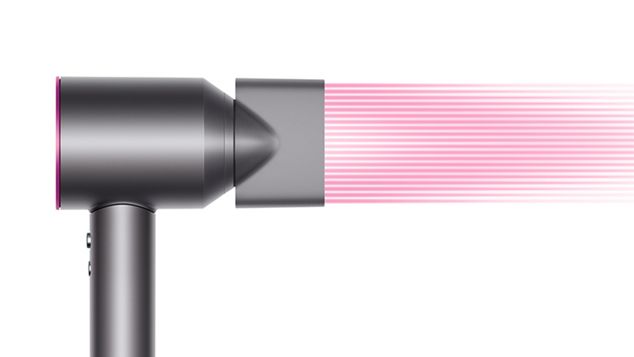 Dyson Supersonic Hair Dryer. This is the fastest drying hair dryer with no extreme heat that can normally damage hair. Instead it protects with its powerful digital motor and intelligent heat control. It was engineered for different hair types and comes in an array of colors. It will help to increase smoothness by 75%, increase shine by up to 132% and decrease frizz and flyaways by up to 61%. The included smoothing nozzle dries and styles your hair at the same time with gentle, low-velocity airflow. The styling concentrator has a wide, thin design to create a high-velocity blade of air that's perfect for styling. And because the air is focused, you can style one section at a time – without disturbing the rest. The diffuser is engineered to disperse air evenly around your curls, the Diffuser simulates natural drying, helping to reduce frizz and define curls and waves. Long prongs allow you to style hair with control – and reach deep into the hair.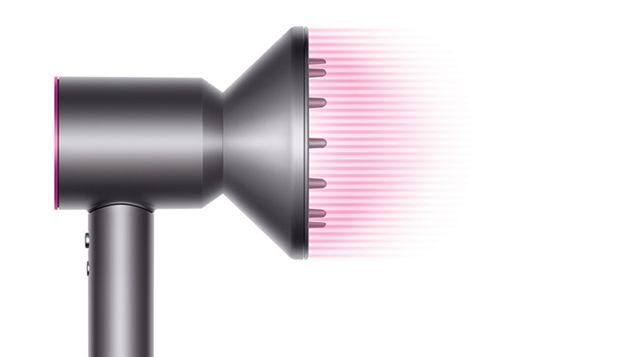 There are 3 precise speed settings: High for fast drying and styling; Medium for regular drying; Low for diffusing. There are 4 precise heat settings: 212°F fast drying and styling; 176°F for regular drying; 140°F for cooler drying and diffusing; and 82°F for constant cold (to set your hair after styling). Love it!
www.dyson.com